As spring starts to quickly approach drift schedules are being released left and right. Quickly I began to realize there is no way I'll be able to afford making it to every single one, which leaves me to make some difficult decisions on which ones I'm going to be making it to. Here's what's currently out there that I'm aware of and am currently considering going to. There are also some out in South Dakota that I'm not going to list mainly because I'm not sure if I'm wanting to travel out that way for an event.
First up lets get the events I am for sure planning on going to this year.
Proving Grounds 1 - June 21st through the 23rd
Proving Grounds 2 - Sept 6th through the 8th
http://pg.maperformance.com/
Also Drift Iowa is another for sure event for me, still working on a date and details for it so not sure where or when it's going to be yet.
Now lets move on to what I'm mostly interested in. Midwest Drift Unions schedule.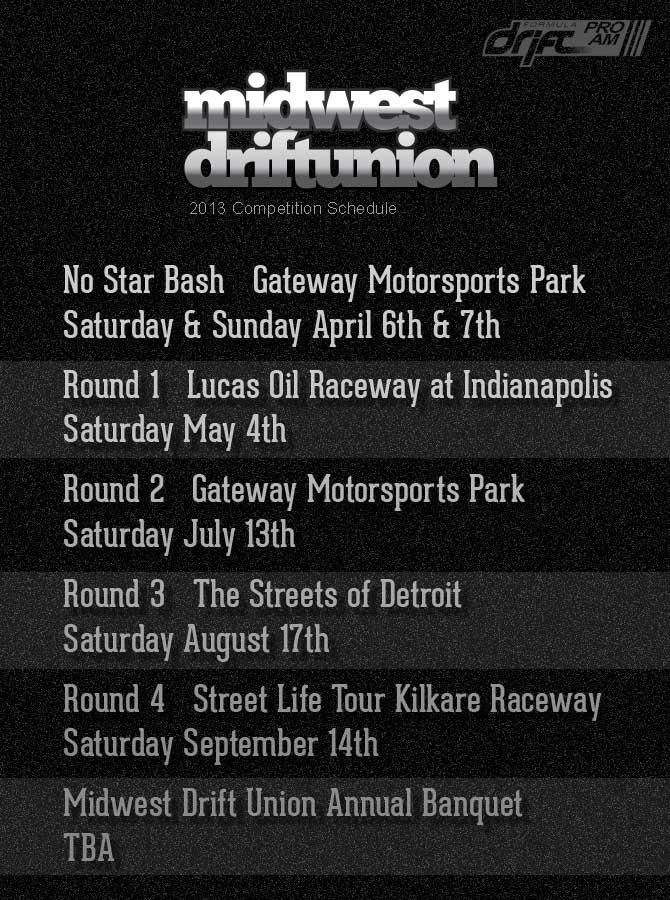 http://mdudrift.com/
Next we have the line up from Club FR
ClubFR Drift Day Events
Sunday, April 28, 2013 - Drift Day - USA International Raceway
Sunday, May 26, 2013 - Drift Day – USA International Raceway
Saturday, July 13, 2013 - Drift101 – USA International Raceway
Sat & Sun, Aug 31 & Sept 1, 2013 - ClubFR Jam! – USA International Raceway
Sunday, October 20, 2013 – Drift Day - USA International Raceway
More Dates Coming Soon…
Auto Mass
Dates Coming Soon…
Midwest Bash/No Star Bash
April 6 & 7 – Gateway MotorsportsPark
http://clubfr.net/2013-schedule/
Lastly we finish it up with Drift Saint Luis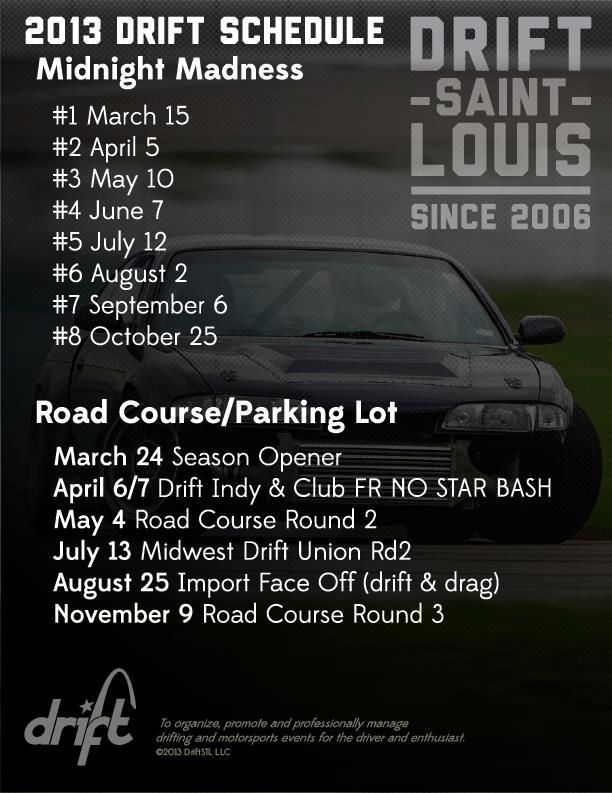 http://driftstl.blogspot.com/
Now I'm sure there's a lot more events out there that I haven't listed, but like I said these are the ones that I am mostly interested in going to, and just these alone are already too many for me to be able to make it out to. I would really like to hit up every single one of Midwest Drift Unions events as they are part of the Formula D Pro/Am and it's the local gateway into going pro in the sport, however with limited budget and being outmatched by other cars I may not make it out to all of those, if they were closer then Indy I would definitely make it out to all of them no questions asked.